YOUTHELP is a project of assisted help dedicated to the teenagers of age between 14 and 19 years attending the secondary school in Tortona.
The volunteers of Servizio Civile Nazionale and La Fenice APS could help the teenagers to study, preparing tests, houseworks and obtaining a method of learning.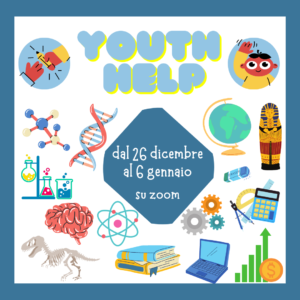 👉 It's Christmas Holidays and La Fenice is not leaving you alone! 👈
🎄 From December 26th to January 6th you can study and revise one or more subjects with one of our volunteers!
🎄 Meetings will be held on ZOOM
🎄 To take part, fill in this form ➡️ https://forms.gle/KDsJixqYfhEAwYre7
🎄 For more information, contact us: aps.lafenice@gmail.com 📧